Moderators: Fridmarr, Worldie, Aergis
Does anyone happen to have a handy macro for picking up the embers?

Phase one is cake, but phase 2 can be a pain.
Posts: 102
Joined: Mon Oct 29, 2007 3:11 pm
Location: Bay Area, CA
---
---
Moraus wrote:/tar *insert the mobs name*

/cast [target=target,target] Righteous Defence

should work, altho i normally have another tank bringing them to me so i can easily taunt them, coz i dnno about you but i cant see anything in my corner

.
lol... so simple it escaped me
I have a tank bringing them to me in phase 1, but in phase 2 we're both trying to get them before they go crazy
Posts: 102
Joined: Mon Oct 29, 2007 3:11 pm
Location: Bay Area, CA
---
---
Keep in mind that if you've got embers already on you, chances are that macro will just target one of them and do nothing.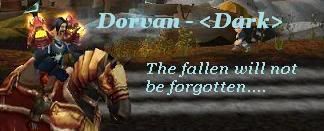 WHAT WOULD BEST DESCRIBE YOUR PERSONALITY?
Moonlight Sonata Techno Remix
Scriggle - 85 Fire Mage
Fizzmore - 81 Mut Rogue
Adorania - 80 Disc Priest
Maintankadonor
Posts: 8462
Joined: Wed Apr 04, 2007 3:28 pm
---
---
We stack up a few embers from phase 1 and kill them as soon as phase 2 starts. During phase 2 I pick up the 2 ember spawns from the meteor and we kill them before the next meteor (all ranged on them).

Once the embers I have are dead I look for the meteor; run towards it when it drops; and use the following macro to pick up both new embers before dragging them back to a position where I have my back to a wall:

/target Ember
/cast Avenger's Shield
/script SetRaidTargetIcon("target", 7);

The last line marks my target with a raid icon (X in this case) so the dps know which to kill first.

With the 2 embers spawning on top of each other you should hit both with your shield as long as you are ready for them. If shield misses or one gets away I just manually target it and taunt.

The way we do it means there are no other embers up when I need to grab the new ones, so I can just spam the macro to pick up the new spawn as soon as possible. If you're using a method where you're stacking adds in P2 then this doesn't work as well, as it will most likey pick up on the closest ember.
Posts: 176
Joined: Fri Feb 01, 2008 5:30 am
Location: Hampshire - UK
---
---
Who is online
Users browsing this forum: No registered users and 0 guests