Moderators: Fridmarr, Worldie, Aergis
A ton of credit to everyone here for the strats and tips.
It was a tough fight for us to learn - we get below 15% and then chaos ensues. A wipe at 1% was enough to encourage us to reclear the trash and get the kill.
I got to MT human form. A couple of Avenger's Shield misses have me out looking to get some more +hit. Other than that threat was not really a problem.
My first progression kill as a MT. I guess I don't suck
So why the post? I'm looking for a little feedback on my performance.
8 tries. 16 crushes. More than I'd like, but given his attack speed, is that really all that bad? I'm avoiding much more than blocking, and I did go through 3-4 mana pots for the better attempts and the kill.
WWS
I logged out in the gear I wore for the fight. After buffs - uncrushable with ~18.8k HP, 6.5k MP
Armory
I tweaked my gearset to have higher HP and not 'waste' any block rating - I'm thinking I could sacrifice some (not too much) HP/avoidance for block rating, allowing me to get a little more mana back. Healing was never a problem until the chaos that ensues at 15% - that will get better with practice.
Any feedback?
Thanks, Leth
Posts: 28
Joined: Tue May 22, 2007 10:02 am
---
well without actually seeing the fight it's a little hard to judge tactics and what not. But one thing that struck me as odd looking at your WWS was that the bigest chunk of you damage came from melee (note I can't see the armory from work so I don't know what gear you are using)?

Here was your damage break down
Melee 31,724 (25%)
SoR 24,764 (19%)
JoR 16,898 (13%)
Consc 13,253 (10%)
HS 12,486 (9%)
... and so on

Here is my break down from our last Leo kill
Consc 38,778 (24%)
SoR 30,401 (18%)
JoR 24,317 (15%)
Melee 21,942 (13%)
HS 16,222 (10%)

So really similar break down with the exception that my consecration and melee are swapped stat wise with yours.

You're taking a little more fire damage than I think you should. It always happens during the demon transition and leo likes to stay on me still. I just make sure the lock is hitting him and I save my bubble for that to drop aggro and save some damage on myself and mana for the healers. And it also gets leo on the lock faster so dps can start faster too.

Otherwise it looked normal to me.
Posts: 429
Joined: Wed May 09, 2007 8:51 am
---
I haven't looked at your WWS in depth, but I wouldn't worry about CBs too much on that fight. honestly, his hits are so wimpy that a few crushing blows could even be nice for the extra mana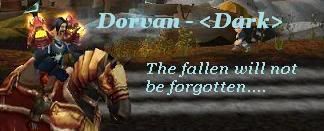 WHAT WOULD BEST DESCRIBE YOUR PERSONALITY?
Moonlight Sonata Techno Remix
Scriggle - 85 Fire Mage
Fizzmore - 81 Mut Rogue
Adorania - 80 Disc Priest
Maintankadonor
Posts: 8462
Joined: Wed Apr 04, 2007 3:28 pm
---
Weapon: LC Gavel + 40SD chant + 23SD food + gear = ~440+ SD after buffs.

I was thrown by the damage breakdown as well. One thing was that I was using Rank 2 Consecrate most of the time to conserve mana. For the demon phase, I judged Crusader and sealed Vengance, or Wisdom. The breakdown for the kill is a little more balanced but still melee on top. Threat is rarely a problem, and I'm using normal seal/judge rotations, rarely is there a swing without a seal up.
Posts: 28
Joined: Tue May 22, 2007 10:02 am
---
---
Return to Serpentshrine Cavern
Who is online
Users browsing this forum: No registered users and 1 guest