Moderators: Fridmarr, Worldie, Aergis, Sabindeus, PsiVen
fuzzygeek wrote:

Chunes wrote:Pretty much just invert everything Archeth said and that's how I feel.

I want blizzard to make it hard to get geared. I want to have to compete to kill the 10th nethersquirrel needed to finish the quest I need to get some good piece of gear. I'm so bored with all my epics being spoon fed into my mouth by a system that was designed to maximize INCOME GENERATION for blizzard's parent company.

/rosetint
/hardcore
/rawr

I'd be okay with this if there was some kind of recourse for the situations where, say, some max level asshole who doesn't even need the quest critters but is one-shotting them so no one can quest in the area. IMO on PvE servers you should be able to kill the opposite faction at any time. On PvP servers you should be able to

kill people in your own faction too

.

On the one hand I would really, really hate it (I played a holy priest for all of classic) and I really, really hate PvP. On the other hand, it would be fascinating to see how social dynamics would change.
Uh yeah you try one shotting L80+ critters at max level and see how that works out... Even with some raid gear it's not going to be that easy.
Turn In, an NPC interaction automator
-
http://wow.curse.com/downloads/wow-addo ... rn-in.aspx
Moderator
Posts: 10496
Joined: Mon May 14, 2007 9:24 am
---
PsiVen wrote:Tier 7: Naxxramas (15), Obsidian Sanctum (1)
Tier 8: Eye of Eternity (1), Ulduar (13/14)
Tier 9: Trial of the Crusader (5)
Tier 10: Icecrown Citadel (12), Ruby Sanctum (1)
I'm not sure I'd classify EoE as Tier 8, even though the ilvl was that of Ulduar. As far as the difficulty of the content, it wasn't significantly harder than KT or a few of the "harder" Naxx bosses, and significantly easier than OS3D.
That said, I agree with most of your conclusions. Also, the fact that itemization will be developed with hard modes in mind could make a big difference depending on how they distribute ilvls.
Moderator
Posts: 8063
Joined: Thu Jul 31, 2008 3:06 pm
Location: Harrisburg, PA
---
fuzzygeek wrote:

Noradin wrote:Great! The asshole would stop one-shotting the quest critters and start one-shotting the questers

I imagine the questers could band together and take him down. It'd be a good teamwork exercise!
Like this?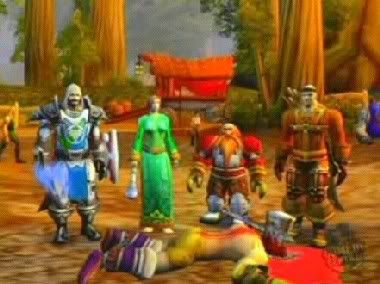 Maintankadonor
Posts: 1466
Joined: Sun Apr 06, 2008 5:02 pm
---
---
Who is online
Users browsing this forum: No registered users and 0 guests