Moderators: Fridmarr, Worldie, Aergis, lythac
Any recommendations for how to spec ret for one's second spec? Now usually talent points end up having to be balanced and talents you want sacrificed for talents you need. However i was playing around with the talent calculation and I seem to have excess points, almost like i forgot a talent or 3? Am i missing something? Is there a recommended base build for ret?
Posts: 17
Joined: Wed Oct 31, 2007 1:26 pm
---
Take Divine Guardian 2points from protection.
Do not take Seal of Command or the PvP talents.
Take 5/5 Divinity. It improves your LoH ability by 10% and this is your core heal to top you off from your SoV and SoB whilst SS is down or you take AoE. Your Sacred Shiled will save you from taking damage from your SoV or SoB and produce max DPS in this setup.
Take PoJ. In a 10minuite fight, one extra hit from your speed works out more DPS over the duration than any of the other filler DPS talents point per point. This assumes you have to run from one place to another once in that 10 minuite duration (enough to allow you 1 extra hit).
Imo PoJ is also a must for your tanking spec, but that is another topic for another day and some will disagree, like those who say ArD is useless
You do not need to know what the optimum build is, you need to know what the developers have worked out for you to be 'normalised' against the oher DPS classes.
Posts: 1
Joined: Thu Apr 16, 2009 2:08 am
---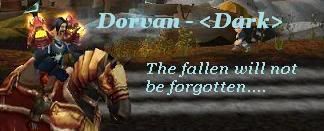 WHAT WOULD BEST DESCRIBE YOUR PERSONALITY?
Moonlight Sonata Techno Remix
Scriggle - 85 Fire Mage
Fizzmore - 81 Mut Rogue
Adorania - 80 Disc Priest
Maintankadonor
Posts: 8462
Joined: Wed Apr 04, 2007 3:28 pm
---
Thanks, also I was so sleepy when i was looking last night I did not notice to Off-Spec forum.
Posts: 17
Joined: Wed Oct 31, 2007 1:26 pm
---
I still have a point in SoComm. I know that it's next to useless ... But eh. I kinda like it. It's proccing more often now, I'm finding.

It's also nice to have when that random ganker comes up to you, and you can Repentance->Judge Command->HoJ->DS->Exo->Judge Command again
Póg mo thóin
Moderator
Posts: 7490
Joined: Mon Jul 09, 2007 8:32 pm
Location: Montreal, Quebec, Canada
---
---
Return to Basic Training & Talents
Who is online
Users browsing this forum: No registered users and 1 guest