Moderators: Fridmarr, Worldie, Aergis
---
We're just starting on Vashj. We had our second attempt last night. It took us about 3 hours to clear everything else on Tuesday night. We raid 3 nights a week, 3 hours a night, so we really wanted to get everything cleared out to give us 2 full nights to work on her. I know that's not farm, but it may help you get a feel for it.
Posts: 38
Joined: Sat Aug 04, 2007 8:43 am
---
Generally we do everything but Vashj in a 3 hour raid, then come back and kill here the next day. Vashj kills vary in time greatly because we're usually trying to get at least 5 vials each kill, which means people who've never seen the fight before. We're not planning on getting her truly on "farm" status, one more kill (6 total) and we're not coming back for quite a while.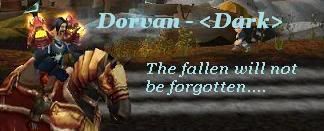 WHAT WOULD BEST DESCRIBE YOUR PERSONALITY?
Moonlight Sonata Techno Remix
Scriggle - 85 Fire Mage
Fizzmore - 81 Mut Rogue
Adorania - 80 Disc Priest
Maintankadonor
Posts: 8462
Joined: Wed Apr 04, 2007 3:28 pm
---
Same for us, everything but Vashj in 3-4 hours (supposing we don't wipe on Hydross or Leotheras), then a variable time on Vashj, might be 1 try or 10, usually a couple.

There's no reason in the earth for which we'd go SSC except for occasional attunements tho.
theckhd wrote:Fuck no, we've seen what you do to guilds. Just imagine what you could do to an entire country. Just visiting the US might be enough to make the southern states try to secede again.
halabar wrote:Noo.. you don't realize the problem. Worldie was to negative guild breaking energy like Bolvar is to the Scourge. If Worldie is removed, than someone must pick up that mantle, otherwise that negative guild breaking energy will run rampant, destroying all the servers.
Global Mod
Posts: 13740
Joined: Sun Sep 02, 2007 1:49 pm
Location: Italy
---
We can usually clear it in 3-4 hours but for some reason our resist tanks don't like coming on at the same time
Posts: 18
Joined: Fri Mar 21, 2008 8:04 pm
---
---
---
Return to Serpentshrine Cavern
Who is online
Users browsing this forum: No registered users and 1 guest