Moderators: Fridmarr, Worldie, Aergis, honorshammer
Hi, my guild Dark just downed Kael and Rage for the first time last week, and we're looking to add another Prot Pally to serve as a backup for myself. This would be a great opportunity for someone who has the skill and interest in being involved in an endgame progressing guild but perhaps isn't able to make the time commitment for a full time raid spot.
You can expect to be raiding 25 man content 1-3 times a week, with the opportunity to come on optional weekly Kara/ZA runs as well. Applicants should have at least full Kara/T4-equivalent gear, and preferably some SSC/TK experience. Vials are a major plus but not a requirement.
Here are the details:
Proudmoore -- US-PvE server
Pacific time (though many/most guild members actually live in eastern time)
Raid times (all times are server/pacific time):
Tuesday 5:45-9
Wednesday 5:45-9
Thursday 5:45-9
Saturday 4:15-9:45
Kara/ZA runs occur Fri/Sun
If you're interested, please register and fill out an application at our website:
www.darkguild.ws
You can also contact me via PM on these boards, or talk to one of our officers (Artemia, Teesmiley, Eminera, Snidelyw) in game. I'm traveling and won't be logged in for a couple of weeks, but if you'd like to chat send me a PM and we can make arrangements.
Thanks for reading, and I look forward to hearing from you!
Last edited by
Dorvan
on Tue Dec 18, 2007 11:06 am, edited 1 time in total.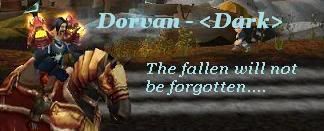 WHAT WOULD BEST DESCRIBE YOUR PERSONALITY?
Moonlight Sonata Techno Remix
Scriggle - 85 Fire Mage
Fizzmore - 81 Mut Rogue
Adorania - 80 Disc Priest
Maintankadonor
Posts: 8462
Joined: Wed Apr 04, 2007 3:28 pm
---
---
We're still fielding applications for this position. If you're interested, please get in touch ASAP as we're looking to stop running Vashj/Kael very soon.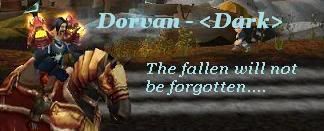 WHAT WOULD BEST DESCRIBE YOUR PERSONALITY?
Moonlight Sonata Techno Remix
Scriggle - 85 Fire Mage
Fizzmore - 81 Mut Rogue
Adorania - 80 Disc Priest
Maintankadonor
Posts: 8462
Joined: Wed Apr 04, 2007 3:28 pm
---
---
Who is online
Users browsing this forum: No registered users and 1 guest