Moderators: Fridmarr, Worldie, Sabindeus, Aergis, lythac, Digren, majiben
PsiVen:
Yeah, everything you said makes sense. My phrasing to "dump" mastery may have been a little over-the-top and misleading, lol
I simply meant that, with the higher ilvl gear from the new raid (especially heroics), it's going to be a lot easier to CTC cap and therefore we don't need to choose only gear pieces with Mastery on them, we can choose pieces with dodge/parry or avoidance/hit or expertise etc. (hence the "dumping" mastery, lol)
Indeed you are right, the key is fitting all the right gear pieces together, like a puzzle. And I'm in complete agreement that the INT cloak just doesn't seem like it's going to be the best fit in that puzzle.
Also to Rohk:
You're really getting too hostile about this all imo. I know you said you wouldn't respond again, so I assume you won't. But take it easy, please. We're all tanks here trying to collaborate, trying to share knowledge and aim to be the best that we can be
there's no need to make snarky comments to a guy like Theck, who's contributions to the tanking community are widely known and undoubtedly impressive.
Heroic Boss Kill Videos:
http://www.youtube.com/user/ValourWoW
Posts: 11
Joined: Mon Dec 05, 2011 4:20 pm
---
Rokh wrote:There are many approches to survival.

Im going to assume you generate more threat than me, you also dodge more than me, you also parry more than me.

We both have 102% ctc, and I have in the range of 30k more health than you. You can take from that what you want, but what I take from that is my job is to live, and i do it better than you.
I'd love to see your armory then, because I find that more than a little hard to believe. It was nearly impossible, if not completely impossible to go dual-stam trinkets in Firelands
and
simultaneously use no mastery or mast/stam gems. The rating just wasn't there. And if you're using one mastery trinket and one stamina trinket, then I can't see how you'd have 30k health on me, since I'm in more or less best-in-slot heroic Firelands gear already, and reforge/gem for stamina after cap.
30k health is a lot; that's around 2000 stamina or 1300 mastery. You're saying that you somehow have
32 gems
worth of itemization over me, just from choosing gear wisely? I call shenanigans. I think you're just making up numbers to suit your argument at this point.
You do realize I've been logging out in ret gear for the past few days, right? Maybe that's where you're getting 30k from.
Moderator
Posts: 6212
Joined: Thu Jul 31, 2008 3:06 pm
Location: Harrisburg, PA
---
lythac wrote:1.4% increased CTC? I don't think the Parry rating was taken into account.

Using the item comparison Theck

linked

,

Valour

's armory (first player in thread in Prot gear) and Rhidach's CTC calculator I get 1.54% block from int cloak vs 0.99% avoidance from str cloak. 0.55% CTC difference, which is 44 Mastery.

From Theck's MATLAB thread, the str cloak is worth ~290 DPS more. More DPS is always welcome.

If you want more DPS, go for the str Valor cloak

If you want more avoidance go for the str Valor cloak

If you want more sta go for agi Rhyolith cloak

If you want full CTC and have to use the int cloak which amounts to 44 Mastery worth of CTC - something is wrong.
Whoops. I took parry into account, but I made a mistake at the end. Here was my napkin math. After gemming/reforging like I did in the comparison, the Int cape gives you:
+123 mastery
-260xparry rating (250 base, 186*0.27*1.05*1.05=55 from strength)
-77 expertise (ignored)
+100 hit (ignored)
Using the rule of thumb that mastery is ~3x as effective as avoidance at CTC at reasonable levels of DR. That would mean that the extra mastery is worth ~123*3=369 parry rating for CTC purposes, giving the cloak a lead of ~109 parry rating.
Which I then divided by 179 and multiplied by 2.25 to convert into CTC percent to get 1.37%. Except that parry rating is 1%, not 2.25%. Oops. Fix that error, and it drops to around 0.61% CTC difference, which is an over-estimate due to DR on both ends (it's likely to be a higher ratio than 3:1 now, but the DR will also drop the effective CTC by 30-40% since we don't get the full 1% dodge from it).
Obviously I should have down-converted the parry to mastery, instead; that gives me (260/3)=87 effective mastery, 123-87=36 mastery differential, 36/179*2.25=0.45% CTC difference, right in line with Rhidach's spreadsheet.
Moral of the story: don't do napkin math while you're distracted by lab work.
Moderator
Posts: 6212
Joined: Thu Jul 31, 2008 3:06 pm
Location: Harrisburg, PA
---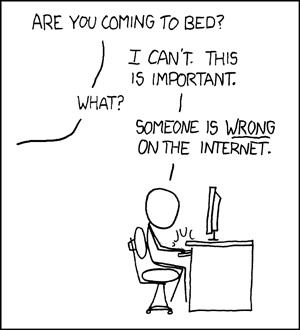 Posts: 340
Joined: Mon Dec 31, 2007 12:01 pm
---
Kihra wrote:
Winner.
Sabindeus wrote:I feel like I should get a t-shirt made for me that says "Not Socially Awkward, Just Fat".
Brekkie wrote:The world will always need people to dig ditches.
Moderator
Posts: 5258
Joined: Thu Jul 05, 2007 1:08 am
Location: Hitting Panda's over the head with a cricket bat shouting Get Orf My Lawn!
---
Kihra wins!
Anafielle, 90 Retribution Paladin in
<Something Wicked>
::
Armory
::
Twitter
Sacred Duty: Theck, Meloree & Ana's blog

"Hold on, hold on, let me make sure I've got this straight. You're telling me that a critical part of our strategy for this fight will be to have the ret paladins go stand in the fire? Yeah, we can handle that." -- DSWarden
Posts: 35
Joined: Thu Jan 28, 2010 12:31 pm
Location: Charlotte. NC
---
anafielle wrote:Kihra wins!
The PVP cloak may win too
Posts: 92
Joined: Tue Mar 23, 2010 10:24 am
---
I split the new reply off of this thread, and am locking this due to some bad behavior. There's no need for people wanting to read into cloaks to go through that.
Moderator
Posts: 1401
Joined: Sat Jul 26, 2008 2:41 pm
---
---
Return to Gear Discussions and Advice
Who is online
Users browsing this forum: No registered users and 1 guest