Moderators: Fridmarr, Worldie, Aergis, Baelor
Lore wrote:

Candiru wrote:Don't forget weapon speed, its very highly weighted for ret.

No it isn't.
It's pretty significant, about 33 DPS per .1 speed in my gear.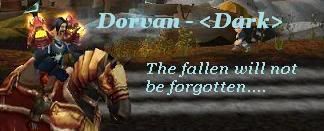 WHAT WOULD BEST DESCRIBE YOUR PERSONALITY?
Moonlight Sonata Techno Remix
Scriggle - 85 Fire Mage
Fizzmore - 81 Mut Rogue
Adorania - 80 Disc Priest
Maintankadonor
Posts: 8462
Joined: Wed Apr 04, 2007 3:28 pm
---
Lore speed makes a significant difference for ret. Rarely enough for you to pick up a weapon 13 ilvls lower than your current one but it is significant. So significant that some posters on EJ are lamenting that the speed on one weapon in the game makes it BiS for all 2h dps. when it was faster the BiS weapon changed based on human, orc and dwarf racials.
Amirya wrote:some bizarre lovechild of Hawking, Einstein, and Theck
Moderator
Posts: 6999
Joined: Fri Aug 22, 2008 4:37 pm
Location: Retired
---
I was in a hurry when I posted that -- speed has absolutely no effect on weapon DPS, it's the weapon's average damage.
The reason I make the distinction is because a lot of people will be confused about the difference between, say,
Sword of Justice
and
Death's Bite
because of the .4 speed difference even though the average damage is actually higher on Death's Bite.
It's just better to think of it in terms of average damage or even topend over weapon speed.
Global Mod
Posts: 7757
Joined: Wed Mar 21, 2007 11:52 am
---
It's not really fair to compare those two as there is a 34 base dps difference, for which speed can not easily correct. It's incorrect to say that weapon speed has no effect as it's the weapon dps * weapon speed that determines the average hit.
A weapon with identical stats save the weapon speeds will always favor the slower weapon.
For a real world example where weapon speed is the determining factor between two similar weapons where one is of a higher ilvl but faster speed and loses as a result is
http://www.wowhead.com/?item=45311
and
http://www.wowhead.com/?item=40208
. The later is superior dps due to it's speed leading to a higher average hit. Now that isn't to say that weapon speed should be the chief concern of a ret player but they do need to be aware of it.
Amirya wrote:some bizarre lovechild of Hawking, Einstein, and Theck
Moderator
Posts: 6999
Joined: Fri Aug 22, 2008 4:37 pm
Location: Retired
---
For the love of pete people, I thought I ranted about this enough.
When considering two weapons with equal DPS values, you choose the one with the higher average damage. DPS is calculated by taking the average of the damage range (minimum + maximum / 2) and dividing it by the speed. If you play with any of those 3 values (DPS, average, speed), at least one of the others has to change.
You're all right. The one that's slower is better. The one with the higher average damage is better. The one with the better maximum damage value is better.
They're all interrelated
. The reason I usually side with the "higher average damage" crew on this debate is to avoid the uninformed using Sword of Justice over Death's Bite because of the speed difference, despite the DPS difference. There aren't a lot of weapon comparisons you can make where the average weapon damage is higher on the lower DPS weapon, but it's fairly easy to find instances where slower weapons have lower DPS than the faster options.
Now quit the back and forth on weapon speed/average damage or I'm putting you all in time-out.
Moderator
Posts: 2677
Joined: Fri Mar 02, 2007 10:42 am
Location: New York
---
Its not JUST the fact that you have a higher average weapon damage, ret has UN-NORMALLISED attacks which scale directly with weapon speed ( the SoB procs from CS, DS and JoB).

If we have a made-up weapon with 0 DPS, hits for 0-0 damage but has a speed of 1000 it will out DPS any weapon in the game for ret, due to the un-normallised attacks.

Now, since we don't get weapon speeds over a larger than ~0.4s range the effects aren't as pronounced as they could be. The higher average damage maximises your CS and DS damage, while the slower the weapon the better the SoB procs from those attacks.

Ret therefore scales with weapon speed to a rather complicated degree, but it is very important nevertheless!

Posts: 2480
Joined: Mon May 28, 2007 12:21 pm
---
---
Return to Off-specs & Other Classes
Who is online
Users browsing this forum: No registered users and 1 guest