Moderators: Fridmarr, Worldie, Aergis
Yeah HotR Processing seals is really, really nice.
But anyway, SoR is not going to die quickly. It's still useful up to level 66 and probably still better for a while,depending on base damages.
HotR + SoW = leveling easymode regen O.o

I am not allowed to seduce the abyssal's lunar mate.
Maintankadonor
Posts: 15551
Joined: Thu Nov 01, 2007 3:15 am
Location: Thorns
---
I could like any number of skills that live on your hot bar for a bit while leveling and then fall off.

Do you still use Purify, or Divine Protection (as it stands now, not the Wrath version).
Moderator
Posts: 2194
Joined: Tue Apr 10, 2007 9:35 am
Location: Charleston, SC
---
But if a mob is dying in 10 seconds, even if you're getting a full stack thee you're probably doing less total damage than you would just using SoR from the get-go (plus remember that SoV only ticks once every 3 seconds, so you're getting only 3 or so ticks total tere). I agree with the assessment of others, SoR is probably going to be useful on trash, with SoV preferable for bosses: essentially what appeared to be intended all along if SoV wasn't so unreliable.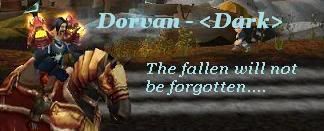 WHAT WOULD BEST DESCRIBE YOUR PERSONALITY?
Moonlight Sonata Techno Remix
Scriggle - 85 Fire Mage
Fizzmore - 81 Mut Rogue
Adorania - 80 Disc Priest
Maintankadonor
Posts: 8462
Joined: Wed Apr 04, 2007 3:28 pm
---
---
I'm not going to quote numbers unless its absolutely required, but from what I've seen SoR maintains a higher bonus from Spell power than SoV does. Given that our gear will provide us substantial amounts of both, SoV seems to be the better in terms of threat generation, though the INITIAL threat may be slightly lower. You can judge it without a stack on the mob for the base damage all judgments provide, meaning you aren't losing much opening with SoV.

But remember, we're not the only Paladin spec. Seal of Righteousness will scale pretty well for a Holy Paladin lookin to solo quests and mobs up to 80. So although our old bread and butter Seal may not be as strong, it still has its use.
Posts: 132
Joined: Fri Jul 25, 2008 8:49 pm
---
---
Who is online
Users browsing this forum: No registered users and 1 guest