Moderators: Fridmarr, Worldie, Aergis
Lore wrote:Well, I should mention I'm thinking primarily of 25-mans here. I could easily see it being a great 10-man or even 5-man talent.

In other news, holy crap the Holy 51-point is beastly.
If the spells stack like hots on any other player then having 3 holy pallies in a raid where folks need to stack will mean easy healing for all if all 3 of them are using this ability at once.
"For no man lives long when his dreams are dead." - Gene Wolfe
Posts: 528
Joined: Wed Apr 23, 2008 11:47 am
Location: Doing rocket surgery
---
Honestly it comes off as way too gimicky for me. There may be a fight where you ask someone to spec for this, but I doubt they'll want to keep it full time.
Global Mod
Posts: 9680
Joined: Sun Apr 08, 2007 1:03 am
---
First let's establish for certain whether or not Pallies are immune to the damage. Then I think it'd be a good idea to start brainstorming rewrites of it.

The key question is: what is the purpose of the talent?

In my opinion it should be aimed at offtanking (it's pretty shallow in the tree, and with all the talents we have not all of them need to be designed for going 1v1 against bosses as MT).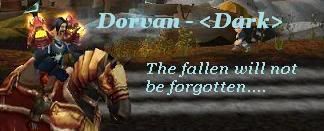 WHAT WOULD BEST DESCRIBE YOUR PERSONALITY?
Moonlight Sonata Techno Remix
Scriggle - 85 Fire Mage
Fizzmore - 81 Mut Rogue
Adorania - 80 Disc Priest
Maintankadonor
Posts: 8462
Joined: Wed Apr 04, 2007 3:28 pm
---
if it doesnt damage through bubble:

a great mitigation talent, id say for holy paladins especially, since having 2+ in a raid means they can set up a rotation in a controlled environment (where they dont have to save bubble to save themselves). throw in a ret/prot OT and enrages are suddenly more manageable.

if it DOES damage through bubble:

VERY situational, but arguably useful in shaving off dmg from the MT/aoe adds on bosses, although slight misuse = dead. for example, boss starts firing off 4k raidwide shadowbolts. 24*30% = 8x normal damage = 32k damage + 30% of whatever the main tank is getting hit by (if he/she is), not to mention the 2.7k everyone in the raid is still getting hit for. which means if you have this talent, and are getting hammered trying to heal people, and hit bubble to "save" yourself, you will die. really just turns an "oshit" button into a lose lose button if the situation is less than ideal. but, seeing as this is blatantly obvious, i would assume bliz plans to make it absorbed upon bubble. that, or its just one less thing to spec into.
Posts: 60
Joined: Thu Apr 24, 2008 10:43 am
---
---
Who is online
Users browsing this forum: Google [Bot] and 1 guest