Moderators: Fridmarr, Worldie, PsiVen, Sabindeus, Aergis
I retired my paladin on a Stormwind rooftop, accompanied by a couple of other plagued protodrakes. It was a nice little moment.

I expect the rest of my characters were left wherever I could be bothered to log out.
Maintankadonor
Posts: 2012
Joined: Fri May 02, 2008 6:25 am
Location: Oh hi
---
With all this talk of retired characters, I dropped in on my character's armoury profile. Seems she's long since become an anonymous ghostlike shadow.
"Ask stupid questions. Growth is fuelled by desire and innocence. Assess the answer,
not the question. Imagine learning throughout your life at the rate of an infant."
Posts: 1864
Joined: Tue May 31, 2011 5:51 am
Location: Norway/Japan
---
I quit after I conquered the Lich King a few times in Wrath.

Cathmor was logged out for the last time sitting on his paladin mount, in his faux-T6 (arena) gear and Sulfuras on his back, on the steps of Stormwind Cathedral. I like to think that he retired into service in the Cathedral and was killed during Deathwing's attack on Stormwind at the onset of Cataclysm.
Moderator
Posts: 1888
Joined: Fri Mar 02, 2007 10:42 am
Location: New York
---
Baelor is alive :O
theckhd wrote:Fuck no, we've seen what you do to guilds. Just imagine what you could do to an entire country. Just visiting the US might be enough to make the southern states try to secede again.
halabar wrote:Noo.. you don't realize the problem. Worldie was to negative guild breaking energy like Bolvar is to the Scourge. If Worldie is removed, than someone must pick up that mantle, otherwise that negative guild breaking energy will run rampant, destroying all the servers.
Global Mod
Posts: 9205
Joined: Sun Sep 02, 2007 1:49 pm
Location: Italy
---
I honestly have no idea where my characters are logged out. If I had to take a guess Dorvan is most likely in Stormwind somewhere.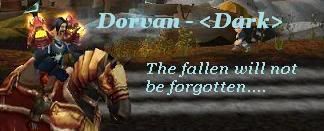 WHAT WOULD BEST DESCRIBE YOUR PERSONALITY?
Moonlight Sonata Techno Remix
Scriggle - 85 Fire Mage
Fizzmore - 81 Mut Rogue
Adorania - 80 Disc Priest
Maintankadonor
Posts: 5668
Joined: Wed Apr 04, 2007 3:28 pm
---
Worldie wrote:Baelor is alive :O
Moderator
Posts: 1888
Joined: Fri Mar 02, 2007 10:42 am
Location: New York
---
Worldie wrote:Baelor is alive :O
Posts: 363
Joined: Mon Jul 23, 2007 2:58 am
---
cdan wrote:

Worldie wrote:Baelor is alive :O
This is epic.
+500 Barathorn Faction Points.
Sabindeus wrote:I feel like I should get a t-shirt made for me that says "Not Socially Awkward, Just Fat".
Brekkie wrote:The world will always need people to dig ditches.
Moderator
Posts: 5258
Joined: Thu Jul 05, 2007 1:08 am
Location: Hitting Panda's over the head with a cricket bat shouting Get Orf My Lawn!
---
HI ! Didn't come here for a long time but since I stopped the game 6 month ago I can answer to this thread

Logged off in Nagrand wearing my warrior T3 mog and my good old Thunderfury. I had really good times during BC and I always liked this place. It's even better now that emo-kid-Garrosh has gone !
Posts: 221
Joined: Wed Oct 01, 2008 8:46 am
---
Those that I have retired already rest at Buin "Phloppy" Freehand's place in Dun Morogh, alliance and horde alike. I used to be in The Shadow Watch with Phloppy on Maelstrom before the guild up and moved to Sen'jin and he played there for a short while as a tauren as well. He was a good friend in and out of game before he passed, only makes sense to end there.
Posts: 1
Joined: Tue Sep 22, 2009 2:19 pm
---
---
Who is online
Users browsing this forum: No registered users and 1 guest