Moderators: Fridmarr, Worldie, PsiVen, Sabindeus, Aergis
Hello, I'm back! (sort of)

Anyway, I found myself with some free time on my hands and a 10 trial of Pandaria, so I figured I' give it a whirl. The thing is, I know I'm not going to be sticking around (if I decide I have time to play an MMO regularly again, it'll be SWTOR). Therefore, my question is: given only 10 days, what should I do/see?

For further context, I have a couple of 85s, a couple of 80s (all alliance), and assorted lower level characters (mix of alliance and horde). I very much like story, and have zero interest in PvP. So, given that, what's the best use of my time? What would you recommend?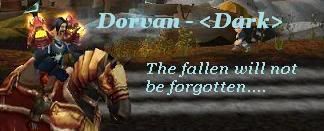 WHAT WOULD BEST DESCRIBE YOUR PERSONALITY?
Moonlight Sonata Techno Remix
Scriggle - 85 Fire Mage
Fizzmore - 81 Mut Rogue
Adorania - 80 Disc Priest
Maintankadonor
Posts: 5668
Joined: Wed Apr 04, 2007 3:28 pm
---
Ten days would be enough to level one of your 85s to 90, so I would focus on that. If you want to hurry, you could leave the starter area at level 86. There's quite a nice story based pay off to finishing both the level 86 areas - the Valley and Karasang Wilds (although the latter is my most disliked zone). Personally, I enjoyed Kun Lai Summit (the L87 zone) and the Dread Wilds (L89), so I skipped nearly all the penultimate zone (Townlong Steppes, L88).

If you have time left over, zerg the heroics to try to get a gear level of 460. That will let you queue for looking for raid and have a taste of the first tier raids.

There are lots of dailies to do at level 90 for rep to unlock stuff, but with a 10 day pass, those are not worth prioritising. You might want to start work on your farm at L90 though - that's surprisingly fun.
Posts: 1217
Joined: Tue Apr 01, 2008 8:53 am
---
If you're more interested in lore than gear rushing, I'd quest through all the zones. The climax of Jade Forest is a great primer to the problems going on elsewhere in Pandaria, so if you're after story be sure to hit that. I'd really be sure to hit all the zones for story. They did a great job with the stories and how they work together.

As econ21 said though, the raids are pretty well done. If you can get there in time (you need to reach 460 ilevel to queue for the first two - JP gear is 458, heroics drop 463, there are two crafted 476), it's definitely worth seeing them.
Dovie'andi se tovya sagain -
It's time to roll the dice
Maintankadonor
Posts: 349
Joined: Tue Sep 11, 2007 7:27 am
---
here's what I'd do:

1) quest through all the new zones with whatever 85 you like most. Don't bother with dailies.
2) When you get sent to half-hill market, do the little intro quest to get your farm from farmer yoon: this is probably one of the biggest 'new' things gameplay wise, aside from pet battles (which require lvl 90).
3) Create a pandaren of whatever class you want (I made a monk) and do their intro zone (this will take a few hours of play, IIRC - goes to like level 12). Along with the 85-90 zones, this one has a lot of good story and I thought was the best leveling zone so far.
Posts: 2222
Joined: Tue Oct 19, 2010 7:30 am
---
Pet battles don't require level 90.
Posts: 5215
Joined: Thu Jun 26, 2008 6:37 am
Location: UK
---
There's a free to play deal for low level play with WoW, so if you want to taste the Pandaren starter zone, you could do it after your 10 day trial under that arrangement on a separate trial account. You wouldn't be able to pick a monk class though.

You can't do pet battles under free to play, so yes it's probably worth trying them in your 10 day trial. They are more or less completely separate from the core game, however, so I would not invest much time in it.
Posts: 1217
Joined: Tue Apr 01, 2008 8:53 am
---
KysenMurrin wrote:Pet battles don't require level 90.
Huh, for some reason I thought they did and that it was a big complaint. (I obviously don't do it)
so you can chuck that on your list to try it out, if you want.
Posts: 2222
Joined: Tue Oct 19, 2010 7:30 am
---
Yeah I think they did originally in beta, but it got changed to low level but big fee, then the fee got reduced.
Posts: 5215
Joined: Thu Jun 26, 2008 6:37 am
Location: UK
---
In beta it was set at 90 for a while while they finished building it.
Posts: 1713
Joined: Sun Nov 27, 2011 10:55 am
---
The trial FAQ says "any characters you play during the trial will stop gaining experience at one point below level 86" so it has to be stuff he can do as a level 85 for 10 days
Posts: 183
Joined: Wed May 05, 2010 4:14 pm
Location: Switzerland
---
Given that constraint, I would recommend:

(a) taking one level 85 and completing the Jade Forest zone. The next zones require L86, but doing JF would give you a taste of MoP questing and story.

(b) Do the two starter dungeons: Jade Temple and Stormstout Brewery

(c) level a panda monk (or other class if monk does not appeal).

(d) try pet battles.
Posts: 1217
Joined: Tue Apr 01, 2008 8:53 am
---
---
Who is online
Users browsing this forum: No registered users and 1 guest