Moderators: Aergis, Invisusira
Hello everyone, it's been a while since I've posted and talked to you all. Right now I'm looking for some help.
I'm currently trying to find the correct Kanji's for several Japanese words. I've googled a few websites with Kanji dictionaries and found some that look legit. However I want to make sure the site I use is correct and accurate. So basically I'm just asking if any of you that have researched kanji's in the past have found a good site you believe to be accurate or if any of you are fluent in Japanese.
Right now the site I found that appears to be the best is this
http://www.saiga-jp.com/kanji_dictionary.html
Thanks
Posts: 4602
Joined: Thu Jun 14, 2007 8:03 pm
---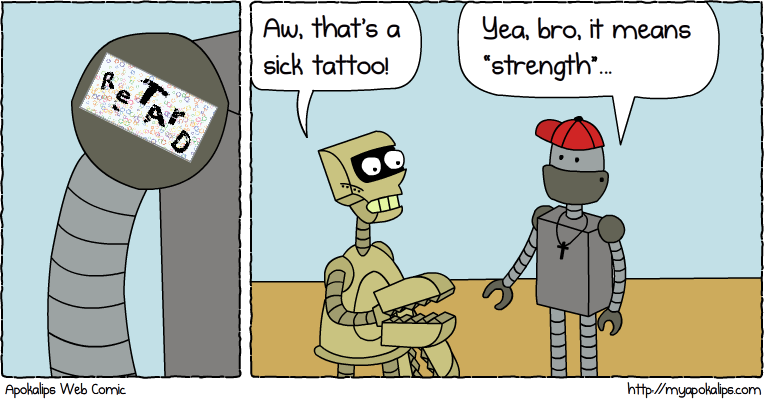 Invisusira

|

Atraira

|

Virsius

|

Vihaansa

|

Adrieana

|
Pets [EU]

|

Invisusira [EU]

|

Atraira [EU]

|

Invisusira [EVE]
Moderator
Posts: 5852
Joined: Sat Oct 06, 2007 6:23 pm
Location: alt-tabbed
---
Not for a tattoo, something I'm drawing up however.
Posts: 4602
Joined: Thu Jun 14, 2007 8:03 pm
---
I don't know of any websites that I would say are "100%" Reliable, but I have a few people that I game with who are REALLY good with Japanese and Mandarin. If you want to PM me what you are after, I will put it to them today.

And that's a hilarious cartoon Invis. Thankfully, my one and only Kanji tattoo was pretty easy to make sure it was legit. On the other hand... While my wife was in college.... Let's just say Her Ex-Boyfriend is walking around with Goddess on his huge muscular arm, and she has "Year of the Snake" really small at the base of her neck.
Posts: 5075
Joined: Mon May 19, 2008 7:15 am
---
On a related note.

One thing I'd like to find. Every baby name site shows us Kaida as meaning "little dragon" in japanese. I feel pretty good about Kaida as a name. We intend to name our daughter Kaida, being the year of the dragon and so forth. One thing I'm having a hard time finding, is how to write the name Kaida in japanese.

Posts: 1299
Joined: Sun Sep 23, 2007 1:08 pm
---
I checked with a friend of mine about Kaida, and he said that he wasn't sure that it meant Little Dragon, and sent me a
link from a forum
that he was a part of, where this exact topic (the name Kaida as little dragon) was mentioned.
Posts: 5075
Joined: Mon May 19, 2008 7:15 am
---
This makes me curious. Do Japanese people name their children the english translation at all?
Lets take Kaida for example (if it in fact means little dragon) would they instead name their child "Little Dragon" instead? I'd love to see that. I also wonder how many Japanese people have the word "Soup" as a tattoo when they thought they were getting something else!
Bye space sword!
Maintankadonor
Posts: 629
Joined: Sat Sep 08, 2007 10:19 pm
---
heh, I just don't know. Even when a site is not copy/pasting from another site, it still has Kaida as little dragon.
http://www.babynamespedia.com/meaning/Kaida
has it as "resembling a small dragon"
We may just go with it anyway, and if we're wrong "Sorry baby, google failed you on this one." But every single names site I can find has Kaida as "little dragon". I do know that Kaida is used as a surname at least. Which isn't so bad. I've seen my last name as a first name on more than one occasion, or at least a variation of it.. Stephan.

Posts: 1299
Joined: Sun Sep 23, 2007 1:08 pm
---
I've always been under the impression that dragon = ryu. Not sure how little would translate, but things like gold (kin) or silver (gin) would make it kinryu/ginryu. As for little, google translate has a few different versions, but none that seem to lend themselves to "kaida."

Now, I don't have a native Japanese speaker handy, so I can't really verify that.
Maintankadonor
Posts: 3687
Joined: Tue May 18, 2010 5:47 am
Location: JBPH-Hickam, Hawaii
---
you know, I think it may come down to it being a name rather than a direct translation. My name doesn't directly translate to much of anything to any language that I know of, yet I also know its supposed to mean "ruler of the people."

Posts: 1299
Joined: Sun Sep 23, 2007 1:08 pm
---
If Ryu is translated as dragon, you could name her
Ryuko
And have a "Dragon Girl"
I at least know that much
From Fuedal Japan
Ko, was a feminine suffix, while Ri and Jo were common male suffixes.
Posts: 5075
Joined: Mon May 19, 2008 7:15 am
---
japanese Kanji you say
i would not mess with Kanji he is a pretty angry guy
Turn In, an NPC interaction automator
-
http://wow.curse.com/downloads/wow-addo ... rn-in.aspx
Moderator
Posts: 6070
Joined: Mon May 14, 2007 9:24 am
---
---
Who is online
Users browsing this forum: No registered users and 1 guest