Moderators: Aergis, Invisusira
It's like a train wreck...I couldn't stop watching this:
http://www.youtube.com/watch?v=tkTLOyvrDsk&feature=player_embedded#!
Now I've always been fascinated by Bollywood movies, the ones that are supposed to be dramatic but they dance and sing throughout the whole movie, including the knife fight scenes...but I never thought my Bollywood fascination would lead me to find this watchable.
Anyway those dudes have some killer dance moves.
Last edited by
Thalia
on Wed Jul 07, 2010 10:53 am, edited 1 time in total.
Posts: 1081
Joined: Wed Jul 16, 2008 4:30 pm
---
I am dissapoint.
Chat-killer at your service.
Posts: 2121
Joined: Sun Jun 15, 2008 4:17 am
---
This made my day
I'm showing this to my relatives.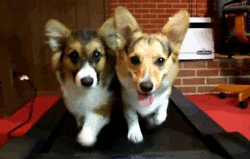 Posts: 1903
Joined: Sat Sep 27, 2008 5:42 pm
Location: US
---
---
Who is online
Users browsing this forum: Google [Bot] and 1 guest