Moderators: Fridmarr, Worldie, Aergis
I know I'm holy atm, I go holy over the weekends for arenas.


My guild runs MH on Friday nights and I was one of the tanks. I was trying out a new spec and even though they said get in my DPS gear I have more mana in tanking than DPS gear so I put on my threat set so I could see how much TPS I could put out when not getting hit. My total avoidance was 100.32% so I was crushable by a little more than 2% (this probably saved the raid anyways).

What happened was the warrior who was soupposed to tank him got hit 6 times with only 3 hot ticks going off in the first 10 sec of the fight. Not sure what happened to our healers but a druid got smashed before I established agro on him.

If any pallys are wondering what it's like to tank him here's basically what happened.

For the first ~1 min of the fight I had unlimited mana so if you ever tank this guy for whatever reason, pop Wings and go for a Max TPS rotation. The Damage you take is enough to regen the mana you use. After 1 min my mana started going down so I started poping mana pots on cooldown. I reduced my threat to a 10-sec rotation: Holy Shield, Concecrate, Judge, Re-Seal every 10 secs. This still was using more mana than I was regaining. By 5% I was hovering around 750 mana. It would drain down to 250, then get a heal and it'd go back up to 750. I was trying to use as little mana as possible by this point. I had plenty of lead on the DPS, the high threat people (hunters, rogues and locks) all wiped their agro giving me plenty of room. At one point I droped to 100 mana and I used LoH to bring me back up to 900. When he died I had 7 mana left. I probably wouldn't have survived the mana burning if I hadn't gotten crushed twice in the last 5% which was substantial healing and mana return.

Just thought you should know. It is deffinatly better to have someone else tank but if you need to it is possible.



Note: I didn't have his Drain on me when I used LoH. I did watch my mana when I did and it droped to 0 for a split second then jumped back up to 900. I do not know if using LoH while the mana drain debuff is on you will cause you to explode or not. If anyone knows I'd like to know.
Level 70 Blood Elf Protection Pally on Deathwing
Posts: 11
Joined: Tue Nov 13, 2007 10:06 am
---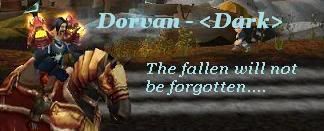 WHAT WOULD BEST DESCRIBE YOUR PERSONALITY?
Moonlight Sonata Techno Remix
Scriggle - 85 Fire Mage
Fizzmore - 81 Mut Rogue
Adorania - 80 Disc Priest
Maintankadonor
Posts: 8462
Joined: Wed Apr 04, 2007 3:28 pm
---
---
Who is online
Users browsing this forum: No registered users and 1 guest