Moderators: Fridmarr, Worldie, Aergis
A guildie posed this question in our forums, and I thought I'd run it by you guys to see if you had any thoughts.

Would a paladin with Righteous Fury and FR aura in healing gear spamming heals on themselves be a reliable tank for Astromancer Capernian in Kael's phase three as the DPS is focusing on the other targets?

I think the main drive behind this question is that one of our shaman pulled aggro last week and was able to hold it while healing himself, and the warlock (who asked the question) thinks that if this is feasible, it'd let him DPS on the council mass rez. It's one of our problem areas right now, and he's one of our top 3 DPS.

It sounds remotely feasible to me, what do you think?
Posts: 15
Joined: Fri Dec 21, 2007 4:53 pm
---
I personally don't think it'd be worthwhile. In Phase 3 your warlock only has to hold Cap against healing aggro anyway, so he should be able to use his max DPS rotation instead of just searing pain....given that I don't see how it would help to have him DPS'ing another adviser instead of Capernian.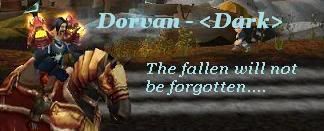 WHAT WOULD BEST DESCRIBE YOUR PERSONALITY?
Moonlight Sonata Techno Remix
Scriggle - 85 Fire Mage
Fizzmore - 81 Mut Rogue
Adorania - 80 Disc Priest
Maintankadonor
Posts: 8462
Joined: Wed Apr 04, 2007 3:28 pm
---
It would be almost impossible in p3 due to healing aggro being divided between 4 targets.
theckhd wrote:Fuck no, we've seen what you do to guilds. Just imagine what you could do to an entire country. Just visiting the US might be enough to make the southern states try to secede again.
halabar wrote:Noo.. you don't realize the problem. Worldie was to negative guild breaking energy like Bolvar is to the Scourge. If Worldie is removed, than someone must pick up that mantle, otherwise that negative guild breaking energy will run rampant, destroying all the servers.
Global Mod
Posts: 13740
Joined: Sun Sep 02, 2007 1:49 pm
Location: Italy
---
I just eat her conflags with no FR gear on, and bandage after wards in phase 1, I can always bubble if needed or get a few heals. BUt it seems to work better than her hitting others, and I dont use any FR Other than uara.
Qapla <Attrition> Cho'Gall
80 Tank DK

EnsgnBlack <Attrition> Cho'Gall
80 BE Prot Pally
Posts: 153
Joined: Sat Aug 25, 2007 3:08 pm
---
We actually tried this a couple times when one of our holydins tanked Caper for five minutes during an early attempt/wipe (one of those "yes, we're all going to die, let's keep practicing the phase ok" moments).

With the mace buff he had no problem outhealing the damage output of Cap ... the major problem was grabbing initial aggro and positioning cap. If she's poorly positioned, all kinds of things can go to hell during P3.

We tried it 3-4 times then went back to a lock tank.
Maintankadonor
Posts: 5130
Joined: Wed Aug 01, 2007 1:58 pm
---
Thanks for the responses guys. This might work if we didn't have a warlock around for Kael for some reason, but I can see now that it's an all around inferior strat to a 'lock tank.

On the plus side, we downed Kael using the normal strategy this week after only three total nights of attempts!
Posts: 15
Joined: Fri Dec 21, 2007 4:53 pm
---
---
Who is online
Users browsing this forum: No registered users and 1 guest